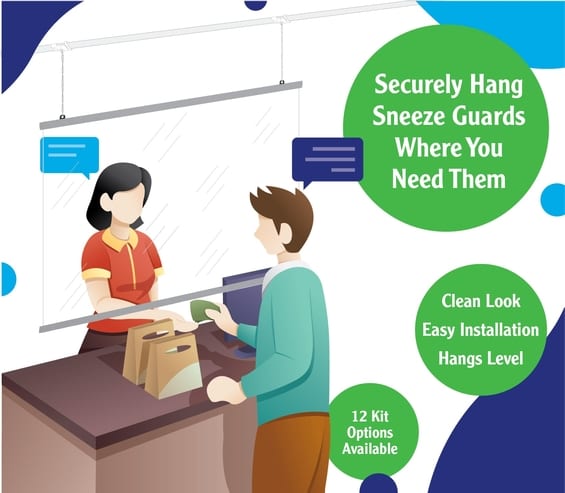 Tax preparation season has arrived, and tax preparers are busy readying their offices for meetings. Hanging sneeze guard kits assure that accounting and tax preparer offices are taking the proper steps to meet safety guidelines. When actively scheduling in-person office meetings with your clients to prepare their taxes, assure them that your office is taking the appropriate steps to adhere to local distancing protocols including the use of a protective sneeze guard barrier, requiring face masks, and providing access to liquid hand sanitizer.
Install sneeze guards to protect face-to-face communication over a desk and to isolate desks from one another in a larger venue. You can learn how to install hanging sneeze guards easily using individual hardware pieces (which you can shop here). For your convenience, we also have hanging sneeze guard kits available that include everything you need.
Buy Hanging Sneeze Guard Kit »
High-Quality Hanging Shields for Tax Preparers
Our high-quality hanging shields, made from flexible and durable clear vinyl, offer greater flexibility than rigid plexiglass shields that sit on the desktop and take-up valuable real estate. Create more room on the desk by hanging the shield from the ceiling. Develop a document pass-through area by hanging the shield so the bottom is 6-8 inches above the desk.
Our connecting cord, LoopLine™, is made from consecutive 2-inch-long loops. Counting loops makes it easy to hang the guard level and create a document pass-through at a work desk. It's easy to cut LoopLine to the same length, create a secure, knotless connection to the guard and the ceiling clip. LoopLine is rated at 25 lb. tensile strength.
Click Here for LoopLine Sheet Instructions
Our shields are made from 20 mil crystal-clear, fire-resistant vinyl. Included in each kit are a hanger system for the top and bottom edges of the shield and connecting hardware for the ceiling. The hanger bars (metal or plastic depending on the kit chosen) keep the vinyl flat, prevent bottom or top edge curl, and stabilizes the guard to minimize swaying. The connecting ceiling hardware works with drop ceilings. If you have a finished ceiling, let us know and we can show you optional ceiling hardware solutions.
Ready-to-Hang Sneeze Guard Kits for Accountants
Music from Bensound.com
We offer a variety of ready-to-hang sneeze guard kit sizes from 24" x 36" to 60" x 60" with either aluminum or plastic toppers.  They come complete with all the components for hanging from a drop ceiling. And, vinyl sneeze guards are less expensive to ship than a large rigid piece of acrylic.
Having a shield does not negate the need for facemasks, housekeeping with a disinfectant between visits, the use of face masks, and visitor access to a liquid sanitizer.
Our sneeze guards are also ideal for the school classroom and the lunchroom, retail, medical offices, hospitals, and other offices.
Buy Hanging Sneeze Guard Kit »
(guard included)
Have Questions?
This can be confusing. Reach out with any questions you have… we're happy to help.
Phone: 1-972-588-1555
Live chat (bottom-right corner)
Email Us »