Top-Rated Ceiling Hanging Hardware, Systems and Solutions for Commercial, Industrial, Retail, Educational, and Event Spaces
Your hanging project is now easier to complete with Ceiling Outfitters' ceiling-based hanging solutions. As the leading distributor of high-quality specialty sign, display, and equipment hanging hardware, we share our expertise and reliability through our curated product line to meet all of your signage hanging needs.
Choose from a wide selection of hanging systems and solutions for your signs, banners, electrical equipment, HVAC ducting, and other fittings used in commercial, retail, industrial and institutional settings.
Safely Hang Signs Without a Ladder
Hanging ceiling displays shouldn't make you nervous or leave you questioning the safety of a ladder. Our sign system for ceilings give you peace of mind that everything you hang is safe and secure – and the best part? They're easy to install without ladders, additional safety requirements, or specific skills.
Quickly Hang Banners and Displays with Ease
Banner hanging is made simple with our products that help you hang new items with ease. Don't waste hours trying to jimmy together hooks and hangers that may or may not hold up what you need. Instead, quickly hang banners and other displays using Ceiling Outfitters' banner hanging solutions.
Hang Items Level, Every. Single. Time.
Never second guess if your products or items are straight again. With our ceiling hanging solutions, you can guarantee things get hung level every single time.
Commercial Hanging Solutions that Keep you Safe
Safety should always be a top priority for your business. From protecting your customers and employees to ensuring that your safety stays top of mind, our products securely take the fuss and complication out of hanging items.
Hanging Hardware Solutions for Contractors
We work with many contractors and recognize your unique challenges and needs for suspending items from ceilings. Whatever you need to hang, our solutions can help you get the job done quickly, securely, and without any added headaches.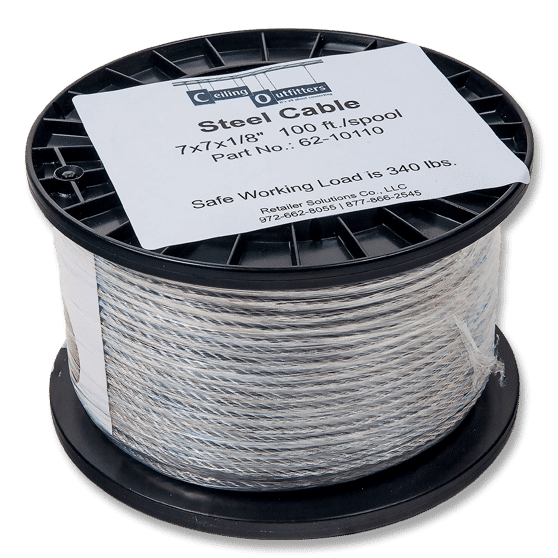 HVAC Installation
FAQs
This is the heart of our system and it will make your life easier. LoopLine™ is our patented cord that connects the ceiling magnet (ClikMagnet™) to your sign/banner. It is simpler and faster to use than traditional cords like monofilament and barbed-string. LoopLine is made from two-inch repeating loops. With the same number of loops on each side of a sign, for example, it will hang level. Additionally, there are no knots to tie. Simply loop the line back through itself and cinch up to tighten the connection. We recommend connecting the LoopLine to the ClikMagnet first and then to the display item. See a video explaining LoopLine below:

It can be difficult to determine a ceiling height. We can help. You just need a known reference point… like the height of a door or a store fixture. Typically, doors are about 7-8 feet high. Stand about 20 feet in front of the door, extend your arm in front of you and "measure" the object's height using your thumb and index finger. We have a downloadable PDF that will walk you through the process.

Banner hangers improve the visibility of your message. Framing the top and bottom edges of signs keeps them flat and straight, enhancing appearance and readability. We carry the most popular styles and sizes that attach to the top and bottom edges of signs used in retail, convention centers, offices, schools, churches, restaurants… anywhere a banner, poster, or sign is hung.

Our solutions hanging system systems can make your workplace safer, more efficient, and ultimately, more productive.

We are the master distributor of the Clik-Clik™ family of products, the premier magnetic hanging system that transforms the ceiling eco-system into a workable location for strategic placement of ceiling signs and displays and helps employees suspend items without a ladder or lifting device.

Shop:

Clik-Clik Magnetic Sign Hanging System

Utilizing a banner hanging system allows you to hang custom signage throughout the workplace, providing directional assistance, identifying work and hazard areas, or reminding workers to use safety equipment.

Proper signage placement can increase productivity and safety awareness, impact employee morale and involvement, and streamline workflow.

Optimize the Organization of Shipping and Receiving Areas Ceiling signage can help you streamline your facility.

The Clik-Clik Magnetic Sign Hanging System also reduces installation time by up to 70%, making it incredibly efficient and effective.