Have you heard about LoopLine™?
LoopLine™ is our durable, reusable connecting cord for hanging signs, banners, displays and decorations on drop-ceilings and open-beam ceilings
If you hang signs and other displays from the ceiling, you should know about LoopLine. It's a unique, durable cord for connecting signs to ceiling attachment hardware and leveling signage without the hassle of tying a line. Available in 10 lb. and 25 lb. tensile strength.
LoopLine is the go-to replacement for outdated sign hanging connectors such as a string with barb, monofilament, double-C hooks and for some applications jack chain and steel cable.
LoopLine™ is our patented, durable cord that connects a sign to your favorite ceiling clip or hanging accessory.  It is compatible with all of our ClikMagnets™, E-Z Pinch S-Hook, E-Z "U"-Hook, CrossLock™ Connector, E-Z Twist-On Ceiling Hook and the E-Z Twist-On Metal Ceiling Clip among others.
When used with the installation tools from the Clik-Clik™ System it is easier and quicker to attach signs to drop ceilings and open-beam ceilings from the safety of the floor.
Shop Loopline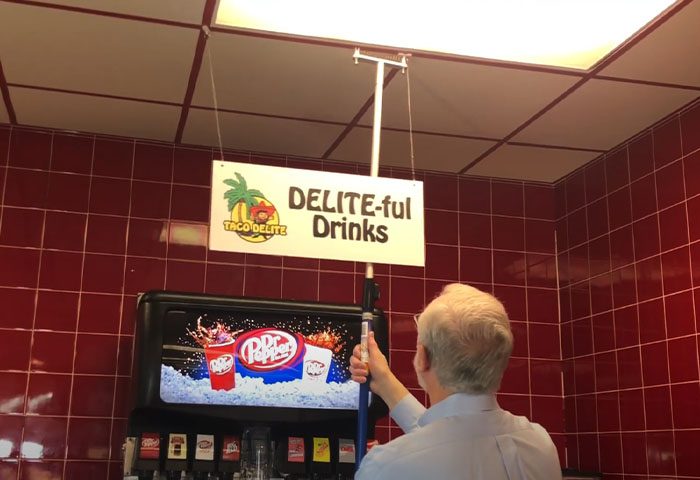 Want Level Signs? Use LoopLine!
Configured with two-inch repeating loops, LoopLine makes it easy to create lines of the same length which eliminates crooked and uneven signs. When each cord is cut with an equal number of loops, signs naturally hang level. This pliable cord is easily cut with scissors ending the need for expensive tools and eliminating injuries from sharp, frayed metal ends of steel cable.
Features:
Easy To Work With: Made of consecutive 2-inch loops, LoopLine is easy to measure and cut to the correct length.
Durable: LoopLine is reusable, quick and easy to connect and remove ensuring consistent execution of the sign program.
Secure: The connection made with LoopLine cannot unravel unlike other methods that rely on the barb at the end of string.
Learn More
How To Use LoopLine, and Level Signs the Easy Way
Connection is made by looping the line back through itself. First connect the line to the ceiling connector, then thread the other end of the line through the sign or décor item, by feeding the end with the attached ceiling clip through the first loop through the sign and pull tight for a secure connection.
LoopLine 25 lb. tensile strength
White, black and clear
82 ft. and 328 ft. spools
LoopLine 10 lb. tensile strength
Clear only
164 ft. and 508 ft. spools
Ideal for Sign Kits Shipping DSD (direct store delivery)
Combine LoopLine with your choice of most ceiling clips for an all-in-one convenient hanging kit. LoopLine is easily cut to pre-determined lengths, wound and bagged with your favorite ceiling clip for insertion into a sign program shipper. Or include a roll of LoopLine in the kit and let the installer cut to length on the job site. LoopLine and your ceiling hardware are reusable for replacement sign programs. Let your installers know to reuse LoopLine on the next job.
The following ceiling clips from Ceiling Outfitters are compatible with LoopLine. If you want to use your own ceiling clip, make sure the clip will easily pass-through the 2"L loop during installation.
Read our How-To Use flyer for LoopLine. You will see just how easy it is to use LoopLine and improve installation time and sign connection security.
Learn More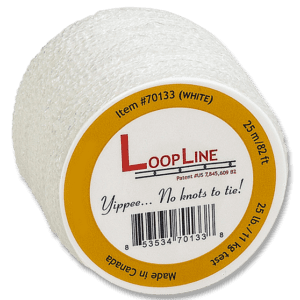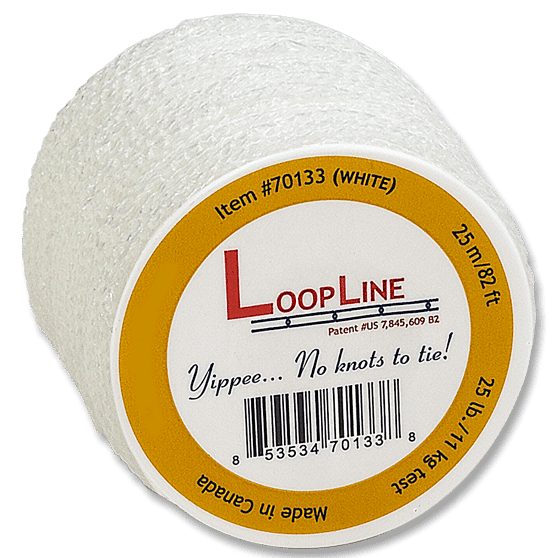 CUSTOM CUT LOOPLINE KITTED:
LoopLine is easily cut to pre-determined lengths and paired with your favorite ceiling clip is bagged for inclusion in sign program kits. In reality, the hardware can be used time and again on replacement sign kits.
To use simply insert one end of LoopLine through the ring of the ClikMagnet™ or alternative ceiling clip. Feed the opposite end of the line through the first loop and pull tight to securely finish the connection.
Repeat for each additional line.
And because the line has no ferrules to cut-off when changing signs, LoopLine is easily removed for use on another project.
Shop Loopline
Made with synthetic polymers and infused with a UV inhibitor means that LoopLine is:
✓ Fire-retardant
✓ Will not discolor from exposure to sunlight
✓ Will not stretch, crack, or weaken over time.
LoopLine is available in tensile two tensile strengths 10 lb. and 25 lb. Choose from clear, white, black or chroma key green. Color availability varies by tensile strength.
Sign Hanging Kits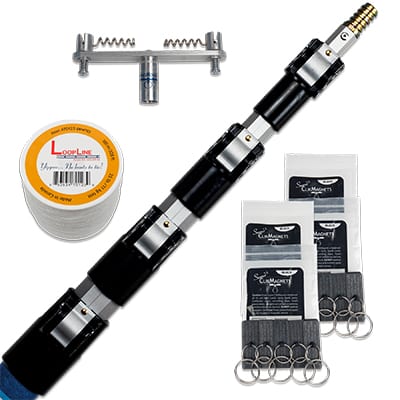 Sign Hanging System: 20 Sign Tall Ceiling Kit
23′ max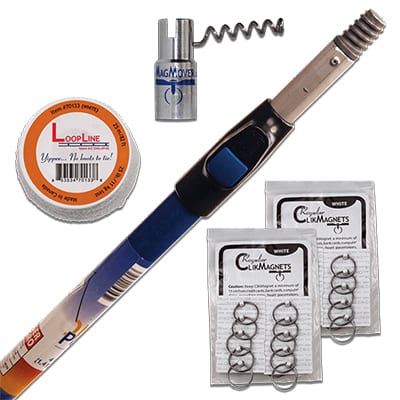 Event Planner Sign Hanging Kit
14′ max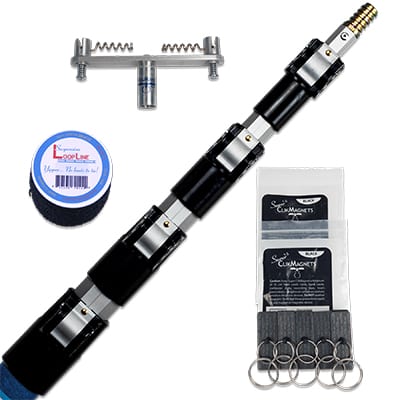 Sign Hanging System: 10 Sign Tall Ceiling Kit
23′ max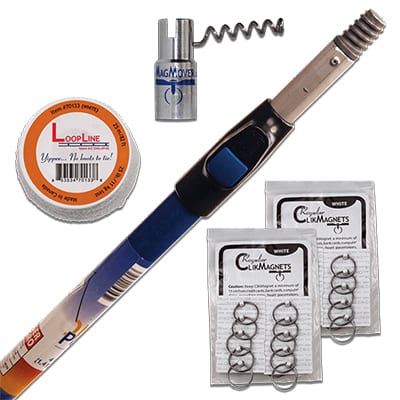 Sign Hanging System: 10 Sign Low Ceiling Kit
14′ max
Frequently Asked Questions
Questions?
Reach out with any questions you have…
Phone: 1-972-588-1555
Live chat: (Bottom right corner)
Email us