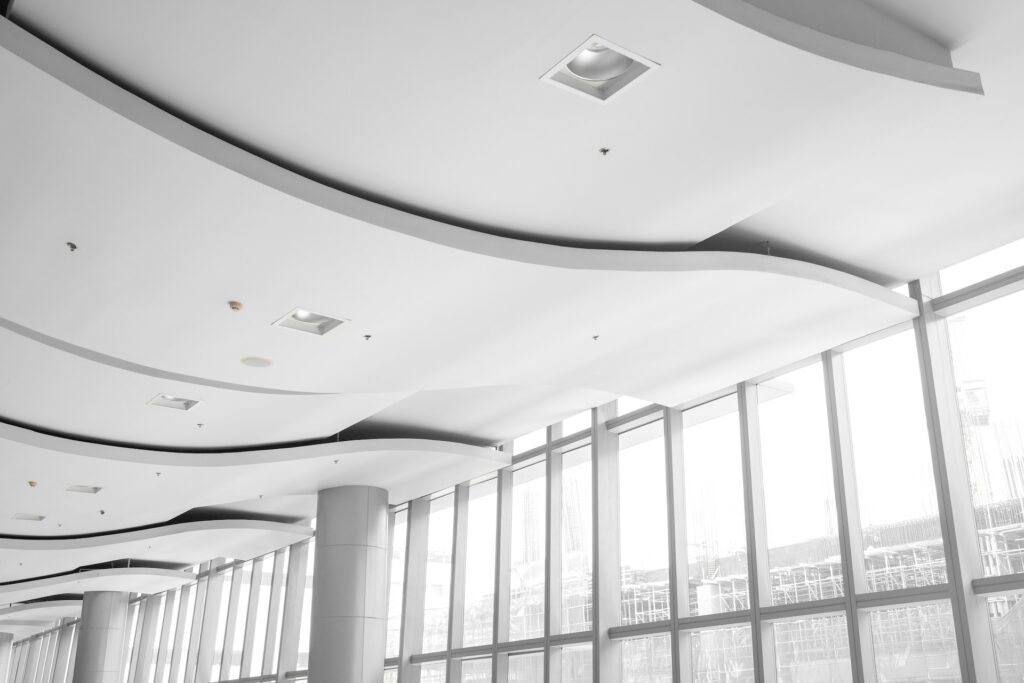 Are you searching for the most secure and efficient way to make adjustable connecting loops when using steel cable to suspend Acoustic Panels horizontally and vertically? You've come to the right place to learn about the UrbanTrapeze™ family of cable brakes.  In this blog, we'll cover typical hardware on the market which you probably use now along with introducing you to Ceiling Outfitter's® UrbanTrapeze.
Things Contractors Need To Consider About Acoustic Panel Installation Hardware
As a contractor, you want to ensure that you have the correct mounting hardware and building materials for the type of panel (foam panels, for example) you are about to install. In the case of acoustic ceiling cloud panels, there are some specific tools and hardware that are necessary to make a successful and secure installation.
Some of the acoustic panel installation hardware you'll need is specific fixture hanging hardware, such as a cable kit, gated J-hook, panel hanging hardware, or corkscrew hanger. Aside from these, you should also consider using new and innovative solutions to make your acoustic panel installation easier, faster, and more secure. Adjustable loops for wire-suspended acoustic panel installation could save you time and money, provided you have the right tool.
How To Hang Acoustic Panels From the Ceiling
Hanging acoustic panels with enough space between the ceiling used to be complicated. In the old days, making a loop from steel cable was tedious and dangerous. You had to precisely measure the steel cable first, then cut it evenly. After the steel cable is cut, the next step would be to use ferrules or crimps to create a fixed connecting loop which requires hand compression with a crimper.  Imagine doing all these steps while balanced on a ladder, a lift, or a flat working platform filled with cable, clamp brackets, and other tools. It's a disaster waiting to happen — and all for creating a simple steel cable connecting loop!
A crowded working area doesn't have to be the case for installers today. We want to introduce UrbanTrapeze™, a practical solution that aims to simplify the process of hanging acoustical panels, signs, ceiling panels, and more. This self-locking device creates a connecting loop in steel cable that can easily be adjusted or changed at any time with the push of a button to ensure the proper placement of each item during installation.
Here is a step-by-step guide on how you can use UrbanTrapeze to hang wire-suspended acoustic ceiling clouds or acoustic panels from the ceiling:
Insert one cable end through the arrow-guided clutch button, with the steel cable and UrbanTrapeze in opposite hands. Push several inches of the cable through the device.
Thread the emerging cable through the hanging acoustic panel and back up to the UrbanTrapeze.
Feed the same end of the emerging cable through the unused clutch button on the UrbanTrapeze. The cable is now secured by its built-in clutch mechanism. The loop is now complete
You can now hang your acoustic panel. Easily adjust the hanging height and level with a push of the clutch button.
Why Contractors Use UrbanTrapeze for Ceiling Clouds and Acoustic Fixtures
UrbanTrapeze not only offers a practical way of creating and securing your panels with connecting loops made from steel cable, it also comes at a very affordable price. UrbanTrapeze is an effective and affordable solution for contractors looking for the best acoustic panel mounting hardware. You can be confident that with UrbanTrapeze, acoustic fixtures hanging from the ceiling surface are secured with its revolutionary built-in locking mechanism.
If there's a need to remove the hanging fixtures at any time, uninstalling it would be just as safe and easy. UrbanTrapeze is easy to unlock and can be used again for other hanging installations. The ease of use of UrbanTrapeze certainly makes it an ideal choice for contractors.
The use of UrbanTrapeze is not just limited to hanging acoustic panels. It has also been utilized for hanging aisle markers, directional signs, lighting systems, and other fixtures. It's widely used by various installation crews, event planners, grocers, and others, because of its ease of use, durability, and affordability.
For acoustic fixture installation needs, check out other members of the UrbanTrapeze family of hanging solutions, such as the Tri-Line Cable Kit, UrbanTrapeze Gated J-Hook, and UrbanTrapeze Heavy Duty Hanging Panel Hardware.
Finding the Right Acoustic Panel Mounting Hardware Solutions
To summarize, you've learned that finding the proper acoustic panel hanging hardware doesn't need to be complicated and that the right tools will simplify the job and possibly reduce the number of tools you need during installation. You can be sure that with the UrbanTrapeze family of products, you can focus solely on the safety, sound absorption, symmetry, and spacing of your hanging acoustic panel installation.
Shop for UrbanTrapeze and other industrial fixture hanging solutions now, and see your life as a contractor change for the better!