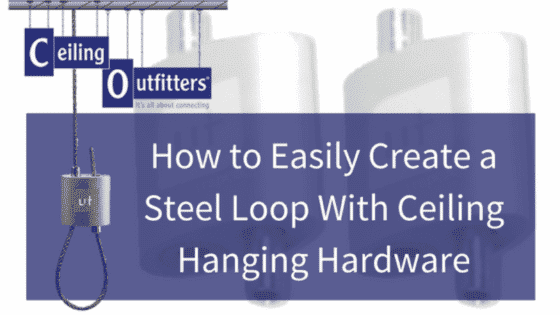 When hanging signs the old-fashioned way, when you're looking for how to loop steel cable, the process is that steel cables must be measured, cut evenly, and crimps compressed by hand… all while balancing on a ladder or lift with a box full of tools! All of this in order to simply create a connecting loop (steel cable loop end). This task can be difficult, frustrating, inefficient, and even dangerous (after all, ladders cause more than 500,000 injuries per year). Don't let this process deter you from hanging your visual displays. There is an easy solution with our ceiling hanging hardware!
Introducing the UrbanTrapeze™, a versatile and practical solution that simplifies hanging signs/banners from the ceiling when working with steel cables. The self-locking device creates an adjustable loop in steel cable that can be easily manipulated or changed at any time.
How to Easily Create and Adjust a Steel Loop Using UrbanTrapeze

It is easy to create a secure loop and attach it to a sign with this ceiling hanging hardware! Simply follow these 3 steps: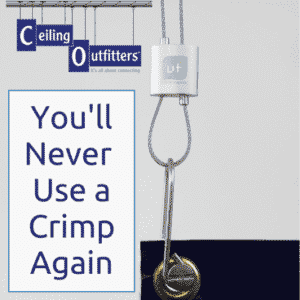 Step 1. With the UrbanTrapeze and steel cable in opposite hands, insert one end of the cable through either arrow-guided clutch button, pushing several inches of cable through the device. Use the emerging cable for step two and three.
Step 2. Thread the emerging cable through the hanging hardware and back up towards the UrbanTrapeze.
Step 3. Finally, to complete and secure the loop, feed the same end of the emerging cable through the unused clutch button on UrbanTrapeze. The built-in clutch mechanism automatically secures the cable.
Once the loop is complete, you can level your visual display or easily adjust the hanging height with the quick push of either clutch button. This allows the cable to freely move back and forth for quick adjustments.
Why Use UrbanTrapeze™ to Create an Eye Loop in Steel Cable?
With retail starting at just over $1.00, UrbanTrapeze won't break the bank and offers installers a reusable, quick and hassle-free alternative when creating steel loops.
UrbanTrapeze revolutionizes the sign hanging industry with its built-in locking mechanism, which automatically grips the steel cable. This grip is certain to keep the wire loop securely in place for the lifetime of the hanging visual display.
This is a self-locking device to create an adjustable loop that's changeable at any time. This allows for reuse of both the UrbanTrapeze and the steel cable. It makes the workflow quicker and easier when changing signage.
UrbanTrapeze is regarded as the perfect ceiling sign hanging hardware for creating steel loops by savvy retailers, grocers, installation crews, manufacturers, event planners and more. It facilitates the hanging of aisle markers, navigational signs, heavy décor items, lighting systems, HVAC ductwork, and other visual displays.
UrbanTrapeze Specifications
This sleek and compact ceiling hanging hardware is offered in two models:
UrbanTrapeze 1.5 measures 1.25 inches by .75 inch (3.2 x 1.9 centimeters). Its exterior is made of anodized aluminum silver finish which provides protection against corrosion.
The safe working load of the UrbanTrapeze 1.5 is 44 pounds (or 20 kilograms) and requires a 1/6 inch (1.5 millimeter) 7×7 galvanized steel cable.
---
UrbanTrapeze 3.0 measures 1.94 inches x 1.17 inches (4.9 x 2.97 centimeters). Its exterior is also made of an anodized aluminum silver finish.
The safe working load of the UrbanTrapeze 3.0 is an impressive 198 pounds (or 90 kilograms) and requires a 1/8 inch (3.0 millimeter) 7×7 galvanized steel cable.
For optimal performance, it is recommended that neither model of UrbanTrapeze be used with coated or stainless-steel cables or outdoors.
While UrbanTrapeze can be used in conjunction with other ceiling hanging hardware, Ceiling Outfitters recommends that it be used with the FlatHat™ System for ceilings over 27 feet.
Use the FlatHat receiver to create a Clik-Spot™ or static sign location for open-beam ceiling heights beyond the reach of Clik-Clik™'s installation MagPole™.
The FlatHat system virtually lowers the ceiling height by placing the Receiver at a height the MagPole™ can reach.
Simply determine the desired sign hanging location, install cable over the open-beam and connect the FlatHat Receiver to the free end of the cable using the UrbanTrapeze.
Once the FlatHat receiver is in place the process of installing and changing ceiling signs is quicker, easier and safer from the convenience and safety of the floor using the compatible Clik-Clik Magnetic Sign Hanging System.
The full system includes the FlatHat Receiver, steel cable, UrbanTrapeze, and the Clik-Clik™ Magnetic Sign Hanging System's installation products (including the MagPole™, 24" Dual MagMover™, LoopLine™, and Round ClikMagnet™).
For more information about the UrbanTrapeze or any other ceiling hanging hardware, shop our online store or contact Ceiling Outfitters today.
About Ceiling Outfitters:
Since 2007, Ceiling Outfitters® has partnered with over 2,000 organizations and 22,000 stores nationally within the retail, manufacturing, education, and hospitality industries. Ceiling space and storefront windows are optimal visual display locations and we help customers utilize these areas safely, quickly, easily and more economically.
We are the master distributor of the Clik-Clik™ family of products, the premier magnetic hanging system that transforms the ceiling eco-system into a workable location for strategic placement of ceiling signs and displays and helps employees suspend items without a ladder or lifting device.