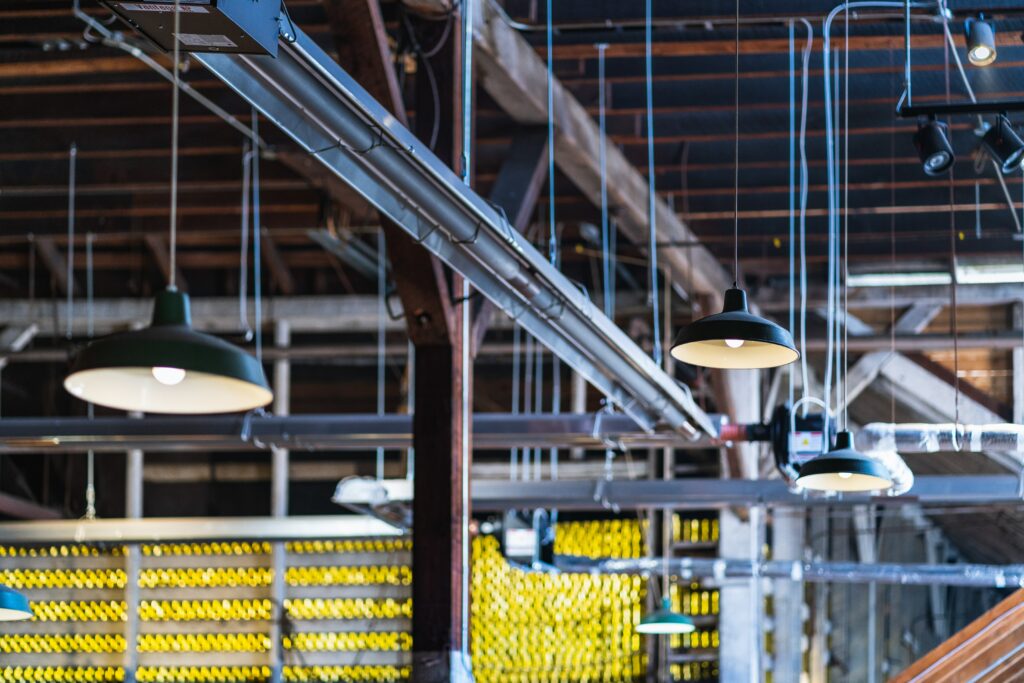 Hardware can make or break a project. Contractors know they need the proper steel cable mounting hardware to make sure the cables are correctly secured and won't loosen during use.
There is a wide range of steel cable mounting hardware manufacturers, so it is vital to research the best quality product for the job. Each type of mounting hardware has a range of applications, unique benefits, and drawbacks, so selecting the right type for the specific project is essential.
In this article, we look at the considerations for industrial fixture hanging hardware, how to make and adjust a steel loop easily, why contractors use UrbanTrapeze™ to make an adjustable connecting loop in steel cable for heavy loads, and more.
Things To Consider for Industrial Fixture Hanging Hardware
The cable mounting hardware you use for your industrial fixtures is just as crucial as the steel cables themselves. With the proper hardware, you ensure that your fixtures are properly hung and secured, preventing accidents or damage.
Below are 4 things to consider when choosing steel cable mounting hardware for your next project:
The Type of Hardware: The type of hardware you need depends on the type of fixture you're hanging. Make sure to choose the right hardware for the job.
Weight of Your Fixtures: The weight of your fixtures also plays a role in selecting the right mounting hardware. Make sure the hardware will support the heavy load of your fixtures.
The Environment: You'll also want to consider the environment where the fixtures will be hung. Choose steel cable mounting hardware that is resistant to rust and corrosion.
It's Easy to Install: Make sure the mounting hardware you choose is easy to install and use. You don't want to waste time fumbling with complex hardware or special tools.
Contractors and Industrial Specialists Utilizing Steel Cable Mounting Hardware
Different types of contractors or industrial professionals may need steel cable mounting hardware. Some examples include:
Every contractor has their own specific needs when it comes to cable mounting hardware. For example, an electrician may need steel cable mounting hardware that can be used to support electrical wiring and fixtures. An acoustic contractor would use cable mounting hardware to secure soundproof clouds or panels.
HVAC contractors may need steel cable mounting hardware that can be used to support ductwork and other HVAC equipment, while construction contractors may utilize it for securing a variety of appropriate construction materials. Industrial specialists may use it for machinery. Maintenance professionals may need steel cable mounting hardware in a similar manner to HVAC, electrical, or industrial specialists.
No matter the specific need, steel cable mounting hardware is essential to any contractor or industrial specialist's toolkit.
How to Easily Create and Adjust a Steel Loop
Creating steel connecting loops for your industrial or contractor needs is easy with the right hardware. Steel cable mounting hardware provides the perfect way to create a secure, adjustable steel loop that can be used for various applications. By following a few simple steps, you can create a steel loop fixture that is both strong and adjustable.
Step 1: With the UrbanTrapeze™ steel cable mounting hardware, simply feed the free end of your cable through either UrbanTrapeze™ clutch button into the self-locking brake which grips the cable automatically.
Step 2: Next, Guide the cable through the display connection point and into the other clutch button, completing the installation with a secure and stable loop.
Step 3: Finally, press and hold either clutch button to release the braking system, allowing for quick and easy adjustments – no more starting over by cutting new cable.
Once you have created your steel loop, you can use it for various applications, such as hanging industrial fixtures or creating a temporary support structure. The mounting hardware makes it easy to create and adjust steel loops to meet your needs.
Why Contractors Use UrbanTrapeze™ To Create an Eye Loop in Steel Cable
Contractors need only the best steel cable mounting hardware products to create an eye loop. That's where UrbanTrapeze™ comes in. With a retail price of just over $1, it's the perfect solution for any project.
But why use steel cable mounting hardware from UrbanTrapeze™?
Built-In Locking Mechanism
The UrbanTrapeze™ cable mounting hardware from Ceiling Outfitters® comes with a built-in locking mechanism which ensures that your steel cable is safely locked and secure. The connecting loop is easily adjusted with the push of a button. Additionally, it is an aesthetically pleasing product.
Changeable at Any Time
Installers can change the suspended item without replacing the steel cable. The UrbanTrapeze provides for easy removal, adjustment, and leveling with the push of a button. A release key is not required.
Perfect Steel Cable Hardware for Any Industrial Fixture
This mounting hardware is perfect for many industrial fixtures. Whether you're using it for lighting systems, HVAC ductwork, acoustic sound panels, cable runs, or anything else, the right mounting hardware will make sure it's done right. The steel construction and tamper-proof design make this hardware perfect for any contractor's needs.
Conclusion
Now that you know more about steel cable mounting hardware and how it can benefit contractors, it's time to get out there and purchase the right products for your next project. With the right hardware, you can rest assured knowing that your contractor will have the tools they need to get the job done right.
With UrbanTrapeze™, steel cable mounting hardware is perfect for any industrial fixture; with a built-in locking mechanism and tamper-proof design, you can trust that your steel cable is mounted securely.
Ceiling Outfitters is the original and most trusted source for steel cable mounting hardware. With 15 years of experience in the industry, we are your go-to source for all your steel cable needs.
For more information on steel cable mounting hardware or to purchase the right products for your next project, visit us online or call us at (972) 588-1555.