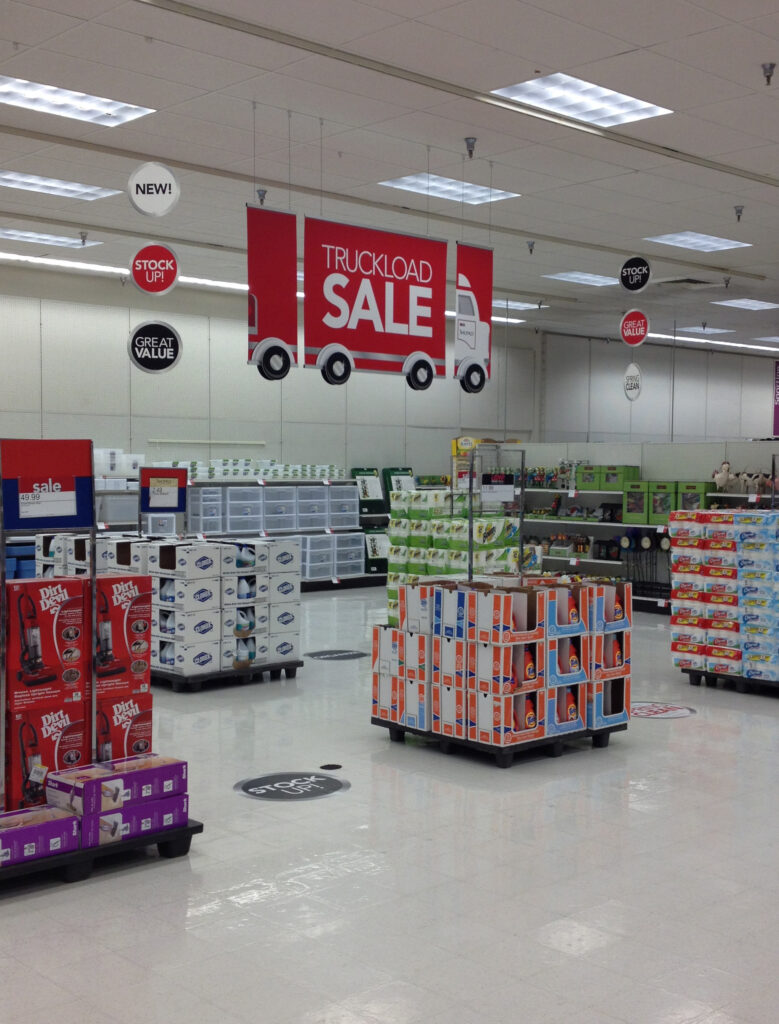 As a business owner, you probably know that hanging ceiling signs, like directional signs and banners, is crucial for creating a good customer experience in any business space. 
While signage is a simple addition for most businesses, securing and frequently swapping signs in and out can be challenging. This could cause business owners not to take full advantage of their signage – but we're here to help make that experience different. Learn more about hanging signs from the ceiling without using a ladder and what products to use. 
Ceiling Sign Hanging Options & Benefits
Hanging signs from the ceiling is an obvious way to communicate effectively with employees, customers, and others. But what happens when signs aren't safely secured? Likewise, what happens when ladders fail to provide a safe hanging solution?
In any given year, more than 100 people die in ladder-related accidents, and thousands suffer from disabling injuries. Nonfatal ladder injuries that resulted in at least one day away from work amounted to 22,710 injuries, where the primary source of the injury was a ladder in 2020. We want to make this a thing of the past. 
When it comes to hanging signs safely, having the right tools and accessories can make all the difference. Clik-Clik Magnetic Sign-Hanging solutions are an excellent option for those looking for a safe, quick, and easy way to hang their signs. Let's explore the different options in the Clik-Clik family of products and see how they can improve your signage installation process.
Ceiling Sign Hanging Solutions With The Clik-Clik™ System
The Clik-Clik System provides the best integrated magnetic sign-hanging solution available. It offers professional quality design features, superior functionality, and a one-year warranty on the MagPole and MagMover products. Do you need a hassle-free sign-hanging solution for drop ceilings or your open beam ceiling? In that case, Clik-Clik's integrated magnetic system may be just what you're looking for.
What solutions are best for each type of situation and ceiling? Let's break them down!
1. LoopLine

™
LoopLine is a durable cord used to hang signs, banners, displays, and decorations from many different surfaces. Replace hard-to-work with steel cable, metal chain, barbed string, and mono-filament with this easy-to-install, reusable, time-saving, and cost-efficient product.
The LoopLine is configured with two-inch repeating loops and eliminates the annoyance of crooked, uneven signs. When cords are cut with an equal number of loops, signs automatically hang level. This pliable cord is easily cut with scissors, ending the need for expensive tools and eliminating injuries from sharp, frayed metal ends when using steel cable.
The LoopLine is made with synthetic polymers and infused with a UV inhibitor which means:
It's fire-retardant

It will not discolor from exposure to sunlight

It will not stretch, crack, or weaken over time.
2. ClikMagnets

™
ClikMagnets are small powerful neodymium rare-earth magnets offered in 4 strengths. ClikMagnets, a component of the Clik-Clik system, are used by retailers for hanging interior retail signs, manufacturers for production floor wayfinding signs, marketing agencies, conferences and convention centers, hotels, restaurants, event planners, religious facilities, grocery stores, and schools looking for a way to hang ceiling signs, banners, or decor quickly and safely with the greatest of ease.
3. MagMovers

™
Part of the Clik-Clik Magnetic Sign Hanging System, the MagMover, is a tool that attaches to the threaded end of any MagPole and is used to lift and position or remove ClikMagnets – along with the item being hung – from the ceiling.
The easy-to-use MagMover installs signs 70% faster than traditional sign-hanging methods. In addition, several models allow the positioning of multiple ClikMagnets simultaneously, eliminating the need to collapse and extend the MagPole numerous times during an installation. 
Multiple models are available to accommodate different items with various dimensions. Choose from a Single-Station, several Dual-Stations, or an Eight-Station Multi MagMover for extremely flexible items like fabric.
4. MagPoles

™
The durable installation MagPole is designed for long-term professional use. The aluminum and fiberglass construction results in a lightweight, sturdy pole easily maneuvered when fully extended to reach ceilings as high as 23 feet.
Telescoping sections allow for a compact pole, simplifying transportation and storage. Four telescoping areas collapse to 5 feet 2 inches, and with the push of a button, each section locks in place for added speed and security.
5. Starter Kits
Designed with affordability, safety, and simplicity, the starter kits are specially priced and provide all the required components to strategically position ceiling sign displays that effectively communicate your message while reducing floor space clutter. They're also great for hanging sneeze guards.
The kits include a telescoping installation MagPole, a MagMover to hold the magnets, ClikMagnets that attach to the ceiling, and LoopLine cord that connects the item being hung to the magnet. All the products are reusable.
Finding the Right Ceiling Sign Hanging Solution
If your business is ready to leverage the benefits of hanging signs, doing so securely and safely is vital. With the help of Ceiling Outfitters, you can have confidence in knowing your hanging solutions are high quality and built to last. 
Learn more about our products or speak with our experts to find the right solutions for your needs today.