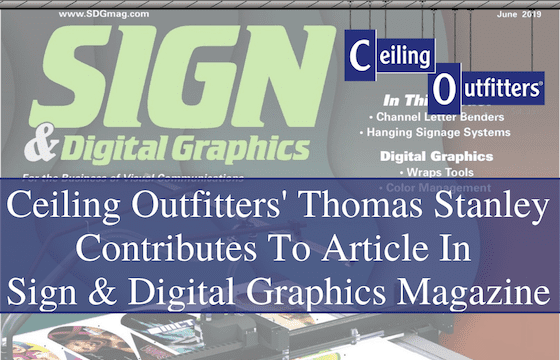 Ceiling Outfitters® President Thomas Stanley Speaks in Detail to the Value of Hanging Sign Systems in the June Issue of Sign & Digital Graphics
CARROLLTON, TEXAS, June 24, 2019 — Sign & Digital Graphics, a magazine for the Business of Visual Communications, featured an in-depth article on the benefits of Hanging Signage Systems in their June 2019 publication with interviews from three industry veterans. Thomas Stanley, President of Ceiling Outfitters, based in Carrollton, Texas, offered his thoughts for the article on the value of using ceiling signage in a retail setting.
Since 2007, Ceiling Outfitters has worked with local, regional, and national companies to provide ceiling sign hanging solutions for a multitude of venues including retail stores, grocers, production facilities, printers, marketing agencies, and municipal and educational facilities. The company's quality products, from complete sign hanging systems to hanging accessories, help customers visually engage their audiences.
"I like to say that the retail ceiling is the last frontier in the retail environment," stated Stanley in the article.
As store shelves and floors are packed with information, the ceiling offers valuable space for messaging.
"Suspended signs support the retailer's overall marketing goal and enhance the in-store message using well-designed graphics, including good use of color, to catch the shopper's attention and present the message," stated Stanley in the article. "Ceiling signs should help develop the path to purchase, focus on engaging the buyer and have a single strong, clear message."
Charlie Capps, of the Sign Bracket Store, concurs noting that less is more and the importance of a uniform look and design.
Stanley also contributed his thoughts on keeping the workplace safe, and the benefits of a sign hanging system that eliminates the need for a ladder, allowing signs to be installed by one person, instead of multiple employees. One of the best options is The Clik-Clik™ Magnetic Sign Hanging System, which utilizes a telescoping extension pole, called MagPole™, to reach the ceiling without a ladder. And, with multiple sizes available, you can reach ceiling heights up to 27 feet.
The MagMover™, ClikMagnet™, and LoopLine™, a patented connecting cord with repeating loops, round out the Clik-Clik System for quickly and easily hanging signage from the safety of the floor. And, because the system is magnetic, signage removal or repositioning is simple and quick.
To see the entire product line offered by Ceiling Outfitters, from sign hanging systems like Clik-Clik to cable adjusters such as UrbanTrapeze™ for use with steel cable, and many other signage solutions, visit Ceiling Outfitters' website.
For more information on the best use of ceiling signage and types of ceiling signage systems, view the complete article in the June 2019 issue of Sign & Digital Graphics.
Shop Starter Kits
About Ceiling Outfitters:
Since 2007, Ceiling Outfitters has partnered with over 2,000 national organizations including 22,000 retail store, manufacturing, education, and hospitality locations. Ceiling space and storefront windows are optimal visual display locations and we help customers utilize these areas safely, quickly, easily, and more economically.
We are the master distributor of the Clik-Clik™ family of products, the premier magnetic hanging system that transforms the ceiling eco-system into a workable location for strategic placement of ceiling signs and displays while allowing employees to suspend items without a ladder or lifting device. For more information visit www.CeilingOutfitters.Com or call Thomas Stanley (972) 627-4692 or Toll Free: (877) 866-2545.