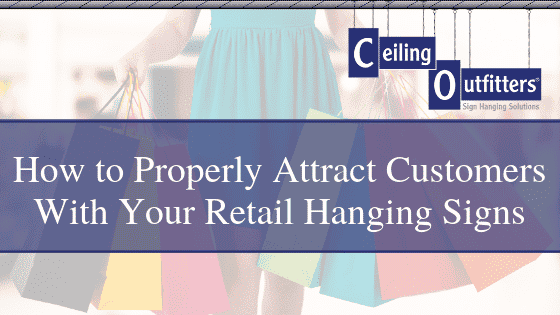 Bringing foot traffic into your store is a lot easier when you have great retail hanging signs – and here's what you need to properly attract and motivate customers with signs.
How to Properly Attract Customers With Your Retail Hanging Signs
Your hanging retail signs serve a major purpose: to bring in new customers and attract people from outside your storefront. Hanging signs also increase brand loyalty, which is a tremendous benefit for any business.
You can make the most of what you have by:
Choosing the right colors for legibility (and to generate excitement)
Sending the right message
Picking the right size
Hanging them correctly
Once you've created the perfect signage, you have to hang it the right way – but more on that later.
Choose the Right Colors and Font
There's been plenty of research on color psychology, but when you're creating retail hanging signs, you have to worry about legibility, too. Some of the best color combinations for contrast and readability include:
Black text on a yellow background
Black text on a white background
Yellow text on a black background
White text on a blue background
Green text on a white background
The font you choose has to be readable from a reasonable distance. Sometimes cursive writing – or any font that's extremely embellished – is best left off retail hanging signs.
Ensure You're Sending the Right Message
What's more appealing to you: "Buy winter coats here" or "Cozy up with a winter coat"? What about "Flowers" versus "Surprise her with flowers tonight"?
You definitely want to be brief – it's a sign, not a thesis – but you want to offer the people who read it a reason to act. Zero in on your message and let your products or services do the rest of the work.
Pick the Right Size
Ideally, you'll be able to choose a sign based on the size of your space – and it'll still be legible without being overpowering. If your sign is advertising a specific product, hang it a few feet above eye-level to maximize its exposure; if it's going to hang over an entire section, put it even higher. (Check out The Basics of Hanging Signs With Ceiling Magnets to learn how to safely put up your signs.)
How Best To Hang Retail Signs?
Your retail signs need sturdy hardware to hold them in place, but it has to be safe for you or your employees to install them, too – and that's where systems like the ladderless Clik-Clik™ System come in.
Using magnets that allow you to hang and reposition signs hanging from your ceiling, you'll be able to safely experiment with strategic placement to find out what works best. If your ceilings are especially high, you'll also benefit from the Clik-Clik's FlatHat™ System.
Working with banners instead? Check out our E-Z™ Banner Hanging Systems, which attach to the top and bottom edges of signs and keeps them from curling or bending improving their appearance and readability.
Get Hardware, Accessories or a Full System for Retail Hanging Signs Now
Ceiling Outfitters® has all the hardware, retail hanging sign accessories and complete hanging systems you need to attract and convert customers with your existing signage. We can help you choose exactly what your retail establishment needs – just call us at 877-866-2545 or get in touch with us online to talk to an expert or get help placing an order.
About Ceiling Outfitters:
Since 2007, Ceiling Outfitters® has partnered with over 2,000 organizations and 22,000 stores nationally within the retail, manufacturing, education, and hospitality industries. Ceiling space and storefront windows are optimal visual display locations and we help customers utilize these areas safely, quickly, easily and more economically.
We are the master distributor of the Clik-Clik™ family of products, the premier magnetic hanging system that transforms the ceiling eco-system into a workable location for strategic placement of ceiling signs and displays and helps employees suspend items without a ladder or lifting device.