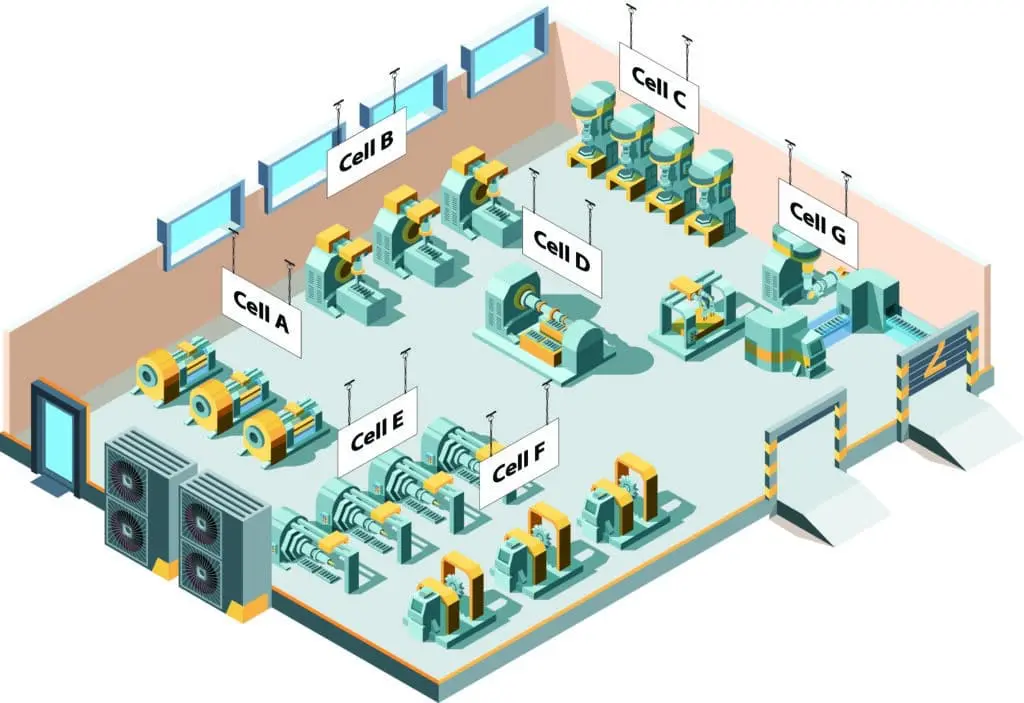 By Bruce Hrvatin, Category Manager for Ceiling Outfitters
An assembly line is a manufacturing process in which interchangeable parts are added to a product in a sequential manner to create a product. In most cases, a manufacturing assembly line is a semi-automated system through which a product moves. Some part of the production process occurs at each station along the line. The workers and machinery used to produce the item are stationary along the line, and the product moves through cycles from start to finish.
Assembly line methods were originally introduced to increase factory productivity and efficiency.
Advances in assembly line methods are made regularly as new and more efficient ways of increasing production are found. This blog focuses on the importance of hanging ceiling signs to help increase productivity and efficiency.
Informative and highly visible signs in the manufacturing environment support the organization's lean initiative, which drives production, efficiency, and safety. The outlay of company resources creates value by removing inefficiencies in the production process. Ceiling signs support this by reducing non-value-added work, empowering employees toward greater efficiency, and eliminating production unevenness.
Utilizing a banner hanging system allows you to hang custom signage throughout the assembly line production area providing directional assistance, identifying workstations, and reminding workers to use safety equipment.

3 Ways Hanging Ceiling Signs Have an Impact on an Assembly Line
Ceiling signs present your message in a clear, organized manner. The flexibility of ceiling sign placement when implementing a sign-hanging system allows you to tailor the messaging delivery.
With proper signage placement, you can increase productivity and safety awareness, impact employee morale and involvement and streamline production on the assembly line.
1. Increase Employee Productivity
Clear communication of assembly line pods eliminates delays and congestion. Ceiling signage can direct everyone for faster, more efficient workflow.
2. Improve Employee Morale and Involvement
Create colorful, vibrant signs that are message-specific and along with flexible placement using the Clik-Clik™ system, employees are encouraged to stay engaged.
3. Boost Safety Awareness Throughout the Assembly Line
Professionally designed signage is used to warn employees of hazardous conditions and create awareness to reduce accidents. And, with a sign hanging system that uses magnets, you can immediately adapt your messaging placement.
The Clik-Clik™ Magnetic Sign Hanging System
The unique Clik-Clik Magnetic Sign Hanging System is designed to create a highly visual workplace without compromising safety during installation. A single individual can confidently connect signs to ceilings up to 27 feet high from the safety of the floor. If you have much taller ceilings, we have another solution that lowers to the connection point to a more reachable height. Ask about FlatHat™
It also reduces installation time by up to 70%, making it incredibly efficient as well as effective.
Attach signs to strong neodymium ClikMagnets™ with our patented LoopLine™ cord, then use the MagMover™ and telescoping installation pole MagPole™ to lift them into place and later easily retrieve them.
Value-price starter kits are available to minimize your investment in overhead communication. The Clik-Clik system installation poles are sized to reach low ceilings, tall ceilings, and extra-tall ceilings.
Think Lean…Think Visual
A well-organized ceiling signage program visually reinforces company policies, encourages continuous improvement, promotes problem-solving, and keeps employees focused on maintaining a lean environment.
Hanging Ceiling Signs Make an Impact
Identify your assembly line system structure
Implement wayfinding signage
Increase productivity
Improve safety awareness
Clik-Clik Makes it Easy
Safely reach up to 27-foot ceilings
Signs always hang level with LoopLine
All components are reusable
Easily remove and move signs without difficulty and wasted time
About Ceiling Outfitters
Since 2007, Ceiling Outfitters® has partnered with 2,000 organizations and 22,000 locations nationally within the retail, manufacturing, education, and hospitality industries. Ceiling space and storefront windows are optimal visual display locations, and we help customers utilize these areas safely, quickly, easily, and more economically.
We are the master distributor of the Clik-Clik™ family of products, the premier magnetic hanging system that transforms the ceiling eco-system into a workable location of strategic placement of ceiling signs and displays and helps employees suspend items without a ladder or lifting device.