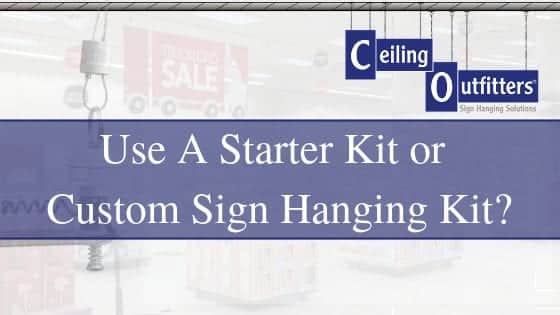 Upgrade Your Sign Hanging System
The traditional sign hanging process is tedious and requires many moving parts. However, in recent years, revolutionary sign hanging systems have been introduced that make the process safer, easier and quicker than ever before.
Its now possible to NEVER measure, cut, crimp, or use a ladder or lift to hang signs again.
These tools typically include strong ceiling magnets, installation poles, and a connecting cord.
Savvy business owners have already made the switch, while more continue to follow. Now, with custom sign hanging kits available from Ceiling Outfitters®, it is easier than ever adopt this new process.
Ceiling Outfitters, a sign hanging solutions company, offers top-of-the-line tools needed to quickly hang or change ceiling signs. The best part? Each client's needs are carefully considered because when it comes to hanging signs, one size does not fit all.
Several different kits are available on the website including:
Reorder Custom Sign Hanging Kits
Begin With A Starter Kit
Clik-Clik Starter Kits are for customers who are ready to quickly, easily and safely hang ceiling signs using new and innovative technology.
The starter kit includes all products required to get "started". This includes a MagMover™, the MagPole™, ClikMagnets™, and LoopLine™.
There are 7 starting kits available on the Ceiling Outfitters website, each meeting unique criteria. These are:
Grow Into A Custom Sign Hanging Kit
If none of the pre-packaged kits fit your specific needs, Ceiling Outfitters will help design custom sign hanging kits that are right for you at no charge.
To speak to someone at Ceiling Outfitters about your unique requirements, simply fill out the contact form on the website or call us at 972-588-1555.
Once you order from Ceiling Outfitters, obtaining additional product is fast and easy through the website shopping cart. And, remember, there is no minimum order amount.
Tip: Sign Hanging Essentials Kits Available
The Sign Hanging Essentials Kit is perfect for installers who have to quickly perform an unannounced sign installation or replace a missing part.
This kit includes every item you may need to use or replace during the sign hanging process: a steel cable; Mini, Regular, Super and Round Red ClikMagnets; window frame metal plates; a spool of LoopLine; binder post and screw sets; E-Z Twist Metal Ceiling Clips; 2-inch U-hooks; 1 and 2-inch S-hooks, aluminum cable crimps, and the UrbanTrapeze™.
About Ceiling Outfitters:
Since 2007, Ceiling Outfitters® has partnered with over 2,000 organizations and 22,000 stores nationally within the retail, manufacturing, education, and hospitality industries. Ceiling space and storefront windows are optimal visual display locations and we help customers utilize these areas safely, quickly, easily and more economically. 
We are the master distributor of the Clik-Clik™ family of products, the premier magnetic hanging system that transforms the ceiling eco-system into a workable location for strategic placement of ceiling signs and displays and helps employees suspend items without a ladder or lifting device.