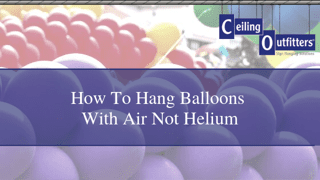 Ceiling Outfitters® has a solution to help you achieve the look you want without helium.
Hanging balloons is exhausting and time consuming.
Helium's expensive.
Wouldn't it be easier to hang balloons from the ceiling without helium? Or maybe you want to make balloons float/fly without helium.
We're here to help.
What is Causing the Helium Shortage?
This is the third shortage of helium in the past 14 years, say industry experts. So, what happened to the helium?
Helium is extracted from natural gas mining and from the National Helium Reserve, which is scheduled to be shut down in 2021.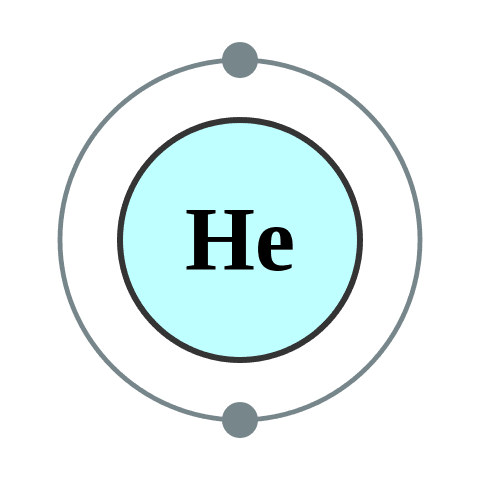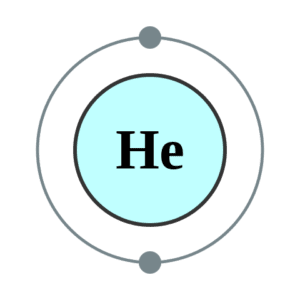 It is a non-renewable natural resource that is difficult and expensive to recycle. The US is slowly releasing some of its strategic supply, but the supply is supposed to be completely sold over the next couple of years.
The shortage of helium has event planners and event venues scrambling for a way to hang balloons without helium at events.
Balloons are bright, colorful, fun, cheaper than flowers, and can add to the overall composition of events. But if you can't buy helium easily, how can you still enjoy the balloons at your events?
How to Hang Balloons Without Helium, a Ladder, or Tape
Here's a solution that will not only help you achieve the look and feel of floating balloons, but can actually save you time in the setting up and tearing down of events. The Clik-Clik Magnetic Hanging System™ allows you to utilize metal light fixtures and metal ceiling structures to suspend clusters of balloons, creating the illusion of floating balloons without needing helium.
It's an easy answer to quickly hanging balloon bunches without using helium. Basically, the proprietary system uses a telescoping installation pole (MagPole™ is available in 3 sizes) and special magnet clips.
As one of our customers found, the Clik-Clik Magnetic System is a huge time-saver.
"I hung 19 balloon clusters. It probably saved me around two hours of my time, but the best thing is that it saved me from climbing a ladder", said Bloomin' Balloons owner Carol Stalions. "I don't think I could even offer hanging balloon clusters to my clients without using the Clik-Clik system."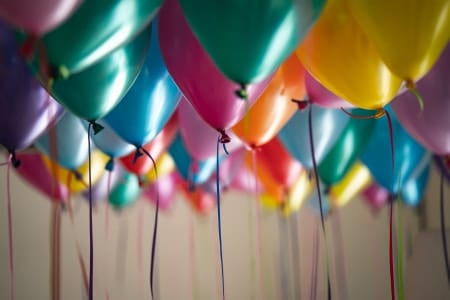 Not only did Stalions not have to climb up and down the ladder to tie the clusters, but the LoopLine™ ensured each balloon cluster was the same height, eliminating the need to make another trip up the ladder to adjust the height.
And because removing the Clik-Clik Magnets from the ceiling is achieved with just a tug with the MagPole, teardown and cleanup is a snap!
"I was even able to remove the balloon clusters with my extension pole while people were still on the dance floor because we had to tear down the decorations by a certain time and guests were not ready to leave yet," Stalions said.
With the MagMover™ attached to the top of the pole, they raise the ClikMagnets™ to the metal connection point on the ceiling and later retrieve them at the end of the event.
Shop MagPoles™ Shop MagMovers™
Clik-Clik's patented LoopLine™ is a connecting cord made from a series of two-inch repeating loops. It is available in several tensile strengths and colors. You can easily control the length of each hanging item by counting the loops and attaching to the ClikMagnet and décor item without tying knots. Simply loop the cord back through itself for a secure connection.
Shop ClikMagnets™ Shop LoopLine™
A System Created as an Alternative Way to Hang Balloons
The idea for the Clik-Clik Magnetic system was initially developed to help with balloon displays in retail stores by entrepreneur and inventor Robina Bernard.
"I noticed that most retail stores had metal on the ceiling," said Robina, "and I realized magnets might make hanging displays a breeze." Soon after, Robina created the amazing ClikMagnets and patented MagMovers.
Today, the Clik-Clik Magnetic System sold by Ceiling Outfitters is used by a wide array of industries to hang many types of signage and displays including:
Event Venues and Planners

Retailers

Marketers

Educators

Manufacturers and Distributors

Government

Faith-Based Organizations

Corporate Facilities
Need helium for your next event? Ceiling Outfitters can help you with alternatives to helium with a variety of sign hanging solutions to not only decorate but also install directional signs, promotional posters, and signage. All using easy-to-install, move, and remove magnets.
Shop Clik-Clik™ Shop Starter Kits™
The Effects of a Helium Shortage
It's not only affecting the filling of balloons. More importantly, it's impacting industries like healthcare, which relies on helium for patients with lung issues like chronic obstructive pulmonary disease (COPD) and to cool equipment such as magnetic resonance imaging (MRI) machines.
Some of the industries affected include:
Entertainment Events

Telecommunications

High Tech manufacturing

Healthcare

Automotive

Scientific Research

Space Exploration

National Defense
While most industries report they can deal with the shortage for now, finding helium so consumers can decorate with balloons can be difficult.
Questions? Click Here to Contact Us »
About Ceiling Outfitters:
Since 2007, Ceiling Outfitters® has partnered with over 2,000 organizations and 22,000 stores nationally within the retail, manufacturing, education, and hospitality industries. Ceiling space and storefront windows are optimal visual display locations and we help customers utilize these areas safely, quickly, easily and more economically.
We are the master distributor of the Clik-Clik™ family of products, the premier magnetic hanging system that transforms the ceiling eco-system into a workable location for strategic placement of ceiling signs and displays and helps employees suspend items without a ladder or lifting device.