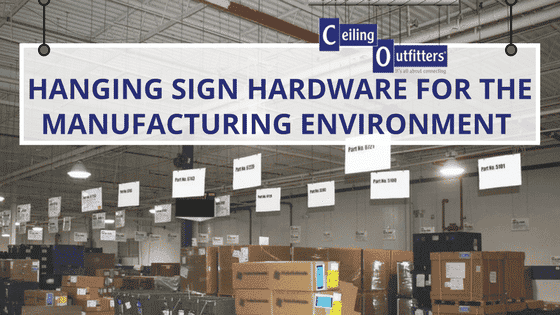 Informative and highly visible signs in the manufacturing environment supports the organization's lean initiatives which drives safety and efficiency into standards-based processes. The outlay of company resources creates value by removing inefficiencies in the production process. Signs support this by reducing non-value-added work, empowering employees towards greater efficiency and smoothing-out production unevenness.
Make It Happen
Critical to business success is the ability of manufacturers and other efficiency driven businesses to harness the visual workplace that makes plain what is and is not normal, transforming the company into a lean and effective production operation.
Visual solutions empower workers to better understand the work order:  what is to happen, when it will happen, how it will happen, who will make it happen, and how many are needed to make it happen.
Hanging Sign Hardware for Improved Communication
Hanging sign hardware allows for strategically placed signs in the visual workplace supporting self-explanation, self-ordering and self-regulation by the employees of the work processes. A notable example of effective use of signs is found in manufacturers with production cells. In the visually oriented workplace, signs give direction and identification on the production floor.  Each cell is signed with the part being produced.  Adjacent to the production cell is the raw material "supermarket". Raw materials ready for conversion are slotted and signed to match each production cell making "shopping" for the correct raw material quick and easy.
Raw materials located nearby, easily distinguishable from each other and quickly accessible in the "supermarket" keep production moving forward. A manufacturing environment with great signage hung with quality hanging sign hardware provides true visual solutions that support the goals of the visual workplace.
Proper Visuals Enhance the Workplace
There are a variety of visuals in use in business.  While this blog's focus is on the hanging sign hardware for installing signs on ceilings, let's not ignore floor stripping for employee and visitor direction and safety; wall signs that inspire, inform and communicate team goals and results. Even the outline of tools on pegboard in the tool crib support visual efficiency.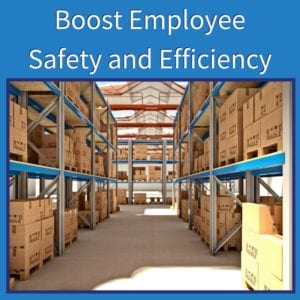 So, where do you put signs?  Above each production cell, in raw material receiving and storage, converted product storage, the staging area
for shipping. Even the office can be easily signed with flush mount hanging sign hardware.
Shop Flush Mount Clips
Properly signed businesses bring value to their customers through less waste, more productivity and competitively priced product, creating time to focus on the bigger issues in today's competitive workplace.
Boost Employee Safety and Efficiency with Hanging Sign Hardware
Hanging sign hardware lets you precisely place signs with messages that enhance employee work knowledge and efficiency. Employees are your best resource for the visuals they need to be successful. Signage communicates valuable information so a supervisor doesn't have to convey the same message repeatedly. More importantly is the fact that signs aren't as commonly misinterpreted as the spoken word. Verbal instructions from a supervisor can easily be misheard or misinterpreted.  Signs are much more direct and to the point.
Shop All Hanging Sign Hardware
About Ceiling Outfitters:
Since 2007, Ceiling Outfitters has partnered with over 2,000 organizations and 22,000 stores nationally within the retail, manufacturing, education, and hospitality industries. Ceiling space and storefront windows are optimal visual display locations and we help customers utilize these areas safely, quickly, easily and more economically.
We are the master distributor of the Clik-Clik™ family of product, the premier magnetic hanging system that transforms the ceiling eco-system into a workable location for strategic placement of ceiling signs and displays and helps employees suspend items without a ladder or lifting device.