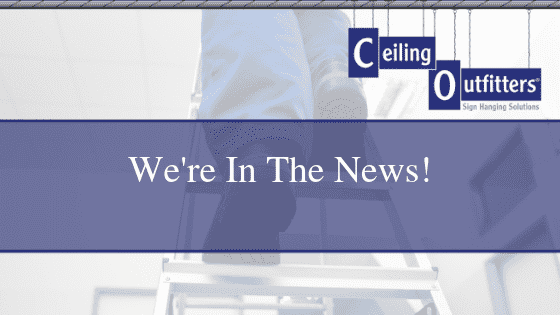 Ceiling Outfitters will be exhibiting in booth #N6733 inside the North Hall of the McCormick Center during ProMat 2019.
The entire product line offered by Ceiling Outfitters is designed to meet signage-hanging needs with integrated systems that get the job done better, faster, and safer.
Experienced Supply Chain executives know that effective facility signage supports Lean manufacturing environments and improved production rates, product quality, and increased sales.
Unfortunately, hanging and changing signs as often as the lean environment calls for, appears to be a tedious, difficult, and on occasion an unsafe process.
"The ceiling eco-system is recognized as an ideal platform for message presentation, we offer innovative hanging systems that are designed to reduce the number of steps or "motions" required to install ceiling signage, and our products make the install safer because it eliminates the use of ladders," says Thomas Stanley, founder of Ceiling Outfitters.
Signage veteran, Ceiling Outfitters offers solutions to hang, change and remove signs without ever having to use a ladder or lift, reaching ceilings up to 27 feet high. This makes the process simpler and easier, aligning with the lean environment concept.
It can also reduce sign installation time by up to 70%.
Stop at the Ceiling Outfitters booth at ProMat 2019 and see why manufacturers throughout the industry are utilizing the Clik-Clik™ Magnetic Sign Hanging System to implement their visual workplace efficiently and more cost-effectively, giving them an edge in the marketplace. 
For a demonstration of Ceiling Outfitters products, visit booth #N6733 during ProMat 2019.
The new, custom display booth allows the capability to demonstrate the ease and flexibility of products like Urban Trapeze and the Clik-Clik magnetic, ladderless signage hanging system.
About Ceiling Outfitters:
Since 2007, Ceiling Outfitters has partnered with over 2,000 national organizations including 22,000 retail store, manufacturing, education, and hospitality locations. Ceiling space and storefront windows are optimal visual display locations and we help customers utilize these areas safely, quickly, easily, and more economically.
We are the master distributor of the Clik-Clik™ family of products, the premier magnetic hanging system that transforms the ceiling eco-system into a workable location for strategic placement of ceiling signs and displays while allowing employees to suspend items without a ladder or lifting device. For more information, visit https://ceilingoutfitters.com/ or call Thomas Stanley (972) 588-1555 or Toll Free: (877) 866-2545.