Hang Ceiling Signs Quickly & Safely
Visually engage your audience using our ladderless sign hanging hardware solutions
Hang signs & banners from any ceiling height
No ladder needed
Uses magnets
Great for any industry
Explore Clik-Clik
Wish you could hang a sign from the ceiling without using a ladder? It's easy! The Clik-Clik™ Magnetic Sign Hanging System harnesses the power of magnets which are raised to the ceiling with a telescoping installation pole. Eliminate the dangers and added costs associated with a ladder or renting a scissor lift.
You need more than ceiling magnets for hanging signs. A sign-hanging system has all the hardware you need to make the job quick and easy.
Shop Clik-Clik
Create an adjustable loop in steel cable with the compact, self-locking UrbanTrapeze™ and eliminate the need for aluminum crimps/sleeves and ferrules. It's an adjustable wire gripper that makes it easy to:
Level and adjust signs with the push of button
Aesthetically attractive
Solution for suspending other equipment (lighting, HVAC equipment, etc)
Use in retail, manufacturing, and many other venues
We also have bulk/B2B solutions.
Shop UrbanTrapeze
E-Z Sign Hanging Accessories
We offer a wide selection of alternative sign hanging hardware solutions to mount signs to ceilings. Additionally, our E-Z™ Banner Hanger solutions professionally frame the top and bottom edges of graphics and prevent curling. All of our easy, economical, and reusable products effectively improve the appearance of your environment (store, event venue, warehouse, manufacturing facility, etc).
Shop Accessories
Bulk/B2B Solutions
Value-Priced Starter Kits
Prolong our Fixture Life

"Initially, we were very skeptical that Miracle-Sticks® Signage Tabs would be of any use or benefit to our stores. We place tremendous strategic emphasis on our signage program and in-store merchandising, so we decided to do a test store to study the taping issue at store level."

"Like all retailers, we put a lot of pressure on our stores to make sure our sales signage is up on time and 100% complete. Our associates were using whatever means at their disposal to get the signs up on time. That resulted in associates using tape whenever clips could not be used for signage. We analyzed our tape usage, and actually found we used a lot of tape on our signage. For example, we used tape when signing odd fixtures, floor models, boxed/skidded merchandise, odd racks, glass counters and wherever we were missing clips. The tape was dirtying and aging our strips and fixtures and made our signage look untidy to customers. Also, associates often took tape from our office supply racks which resulted in costly shrinkage."

"After banning tape and testing Miracle-Sticks® Signage Tabs in the test store, our operation team's overwhelming conclusion was that aside from improved store merchandising for our customers, Miracle-Sticks® Signage Tabs are cheaper to use than tape. They significantly accelerate in-store execution of our signage program. They do not leave tape gunk on our fixtures so they effectively prolong our fixture life. We found that Miracle-Sticks® Signage Tabs are faster, cheaper, and neater than taping."


Major retailer with 300 stores
Visual Merchandising Manager
UrbanTrapeze Replaces Crimps

I really can't say enough about the product and service we received working with Tom. Our company was introduced to the UrbanTrapeze™ and our installs have never been more efficient or safe! The product has been very easy to install, adjust and remove. It is a stout little product that has now replaced our wire crimps and bolt cutters that we previously used to install parking garage overheads.

The UrbanTrapeze™ is great for our application, and I would recommend to anyone who is still crimping and cutting!

Mike
Large Sign Company
Director of Operations
Clik-Clik in Retail – Executes Well

Clik-Clik™ has helped our stores execute the ceiling sign program for the past 4 years. Ceiling Outfitters® has met all of our customer service needs and promptly filled and delivered our orders.


United Supermarkets

We LOVE Ceiling Outfitters and Their Products

We LOVE Ceiling Outfitters and their products. The American Airlines Honor Team at DFW decorates the gate area in terminal C for different military charity events throughout the year ending with our largest event, The Snowball Express (for the families of our Fallen Heroes: https://www.snowballexpress.org/). Previously, we used fishing line and paper clips to hang snowflakes and other decorations from the ceiling. It would take us days to complete the whole area – but Ceiling Outfitters came to our rescue with the awesome Clik-Clik Magnet system and "LoopLine". These products saved us several days of work – not to mention the frustration of putting fishing line on paper clips, climbing a ladder and lifting ceiling tiles to tuck the paperclip underneath. The "tear down" day was amazingly easy and we can reuse these for next year! Thank you, Tom, for helping us make Snowball a great success!

Autumn Hedberg
American Airlines

Organizing The Warehouse

I walked up to the Ceiling Outfitters® booth during the 2017 PROMAT Show, just by chance, and I am glad that I did. The ceiling sign-hanging products provided by Ceiling Outfitters have been very helpful and have had a powerful impact on many of my warehouse layouts and efficiencies.

My warehouses have a more polished wayfinding layout. Additionally, I utilize the Mini-Click Magnets for hanging visual aids for warehouse associates picking product from primary locations.

By far, one of the best investments for organizing a warehouse.

Bill


Installing The System Was Easy

We use Clik-Clik's FlatHat system for sign management in a busy raw materials storage area. Previously our floor based signs had to be moved by the fork lift operators each time they placed or retrieved a pallet of product. Now they stay on their lifts saving countless amounts of time and energy. By hanging signs from the ceiling, our team on the floor and can easily make daily sign changes in 5 minutes. Installing the system was easy with your quick attach and leveling components and supports our visual workplace program.


Food Packaging Manufacturer
Production Supervisor
Hanging Signs in Manufacturing

The Clik-Clik™ Magnetic System for hanging signs is an easy system to use. I invested in the Starter Kit and became an instant hero with our Maintenance Engineers. Our ME's don't have to drive our electric scissor lifts out onto our shop floor to put up new signs. The ME's can do all of their sign hanging work while standing down at floor level when hanging signs 20 feet above them from the ceiling girders. I am happy, too, since the Clik-Clik white LoopLine™ saves me from getting grief from my company executives. We previously used a small steel loop chain to hang our signs. Dust bunnies would collect on the chain after a period of time. No more dust bunnies and no more company executives complaining that the dust bunnies needed to be cleaned up due to the unacceptable visual appearance. I have recommended the Clik-Clik System to my fellow Managers at our other company locations. I have also given Clik-Clik System information to our sign fabricator, so that they can share this with other companies which they fabricate signs for in our area.

David
Large Manufacturer
Value Stream Manager
Fast Installation

It took me two seconds to install the system and look how great is it holding one of our handpainted wallpaper panels. Thank you for your help. We love it!

Kris
Gracie Studio - Los Angeles

Doing Business with Ceiling Outfitters

Ceiling Outfitters has been wonderful to work with and very pleasant. You feel like your talking to family when doing business with C.O. Products are excellent and they have everything I need for my business. Thank you C.O.

David Fink
The Pallet Jack Extension
Chief Everything Officer
UrbanTrapeze – Really Convenient

Recent purchased some UrbanTrapeze clamps to hang LED bay lights. The install went really fast and they are really convenient when you need to move a fixture. I would recommend buying the Felco Cutters as well, they make a super clean cut.

Karl Sanford
Manhattan Project Beer Company
President
Clik-Clik Did the Trick! I Love It!

I was looking for something to hang decorations (lights, paper lanterns) from the ceiling with greater ease than having to use a ladder. Clik-Clik did the trick! I love it. It was so fast for putting the lights up and also for clean up. Someone at the banquet saw us using and wants to order for their school. I like that it is affordable and reusable. Also, the product was mailed to me very quickly, so I was able to look at, and practice before putting to use. Thank you for great shipping and service! I would highly recommend!!!

Sandra
Griffin First

They Are Outstanding to Work With

I wanted to give Ceiling Outfitters a review. When I went online to write my review, I was pleased to see that others think the exact same way of this organization and of Tom that I did. They are outstanding to work with. I had a special project I was not able to find the items or the personal help I needed to complete it. Tom listened to my dilemma, told me of the products he had that would solve it, put the quote together with every piece I needed, and walked me through the website to be sure I ordered everything correctly. What a relief! And, I have received the products and they are beautiful and of high quality. Just the thing to display and complement my hanging signs. Thanks, Ceiling Outfitters, you have a customer for life!

Tammie Wilhoit
TNT Signs & Graphics LLC
Managing Member
Clik-Clik Makes Hanging Signs Fun!

I NEVER thought I'd say this, but Clik-Clik has made hanging signs fun!!! I'm not even kidding! We've been going department by department, switching out all the signs, and it's truly amazing the difference. Everything looks sooo slick. Thank you, Tom, for making this transition so smooth for us.

Lisa Stewart
Central Market - Houston

UrbanTrapeze 3.0 Aircraft Wire Cable Stop Clamp Adjuster Gripper Looper

Yes, loved working with your UrbanTrapeze 3.0 Aircraft Wire Cable Stop Clamp Adjuster Gripper Looper. Fit the application perfectly, loved the ease of use, will use this product again.

Paul

Paul Wolfe
BAE Systems
Retired Sourcing Engineer
Amazing Product

I recently purchased the (UrbanTrapeze) 3.0 to lock my 1/8″ airplane cable to hold down a portable tent on my personal property. We recently had a severe storm with winds in excess of 50 mph and they held strong. I'm truly amazed at the strength and beauty of your product. Glad I found your product when I did. Thanks so much.

Wesley Winn
Wesco
Business Owner
Exceptional Customer Service

I just wanted to say that we very much enjoy working with your company. You are very efficient and your customer service is exceptional!

Rachel
Carroll University

Outstanding

Using these products makes our overhead installations much more efficient and clean looking to the customer!
We install Baffles and Ceiling clouds in Commercial building and will always use Ceiling Outfitters.

Matthew Drum
Ritz Interiors
Vice President
Great Service and Product

I had a very pleasant experience working with Tom and Ceiling Outfitters. They provided the materials we needed to hang flags from our drop ceiling without damaging it. They were prompt to pull together our order and shipped on the same day. I am thankful to have found their products online, and will keep them in mind for the next need that comes up. Thank you for your service!

DJ Smith
The Well - Scottsboro
Missions Pastor
Outstanding service

We were desperate for a ceiling mount for our drop ceiling to protect our checkout staff. Our call was answered promptly, and we were walked through the website to the exact solution for our needs within minutes. We didn't think service like that existed any longer. Thanks very much.

Mike Azar
East Suburban Ophthalmic Associates
Physician
AWESOME Service Necessity

I reached out to Ceiling Outfitters after a dreadful local internet search in the Monterey Peninsula , to discover that they are located in my home state (Texas). I inquired about several products that I need to complete the installation of PPE and Clinical Protection apparatus devices for my office. After a detailed discuss with the salesman, it was confirmed without question that his priority was my business during our conversation, assisting me with the acquisition of the proper products to suit my needs. I was able to get the necessary equipment to complete my project without hassle. I can always count on a Texan to get the Job Done Right The First Time.
A Hundred at a Boys to you. (it's a military thing) …..AWESOME Organization!

J Taylor Robinson
St. Junipero Children's Clinic

Easy, fast, convenient ceiling hardware

Needed something to hang things from a suspended ceiling. The proposed solution was great. Strong, easy to use. Non-damaging to ceiling tiles.
I had only one concern. The connecting loop didn't align with the grid. Then I realized when hanging something, like a banner, the weight (of the ceiling display) used the off-set to lock the loop in place preventing it from coming loose.
Absolutely love these.

(This customer is talking about our E-Z Twist-On Metal Ceiling Clip part #60-10001.)

Gary D Nance
Nutrition Xtreme

great service

I purchased one item and entered the wrong ship to address…..Thomas Stanley jumped in to help. It was an order that didn't even make $10 and he treated it like it was a $1000 order. Great service!!

Kimberly Hayes
Pure Edge Lighting
Buyer
Artist/Owner

This company really helped me out with an unusual problem: how to hang original paintings as "banners" (not stretched canvas). I think we have a workable system now and I can send my pieces to shows. They really went the extra mile for me even though I am not a bigtime commercial customer.

C. B. Murphy
Zoographico
Artist
UrbanTrapeze Saves Electrician Time

My crews are spoiled using the UrbanTrapeze with the steel cable.  When we use them they save us a ton of time vs. jack chain for hanging lights.  We wire Dollar General's stores and they recently changed their lighting package and sent us crimps for the cable to hang lights.  That's ok, but without any adjustment it's hard to hang them level and get the cable crimped in the right location.  It's worth the cost of the UrbanTrapeze grips to speed up the install.

Michael
Kee Electric

Pinch Hitter Scores Home Run

As we set up for our summer VBS, we ran out of ceiling magnets to suspend our baseball decorations. I tried to contact the office, but could not catch anyone near a phone. I ordered online and hoped I could find your business still open, especially with all the closures due to Covid. I showed up at about 4 pm on a Monday afternoon. Your friendly staff helped me locate the products I had ordered and helped me figure out how to take the tax off the order since we are a non-profit! So grateful for your helpful, kind staff and that they were THERE!

Jeanie Cox
Park Cities Presbyterian Church
Ministry Lead for Pre-School
Catching Errors and Accepting Feedback

Thomas and his team noticed an error on my online order. Opposed to just sending it out, they took the time to call and email me.  Of course, as most operations directors for sign companies, we are doing many, many things at once. I made a mistake on the order that when they looked at it didn't make sense.  I value so much that they went above and beyond to ensure it was correct! They updated it easily, got it shipped out.  I let Thomas know once received, I'd give him a good review.

So, fast forward, we received the shipment. There was a little packing issue with the wire we ordered. It knocked around the box and tore a hole in the side allowing smaller parts to fall out in transit.  I emailed Thomas, let him know which parts were missing. Gave him a little feedback on packing with paper so as to fill the box so the contents are not banging around. He took the advisement so well! He got a new order shipping out next day.  The company goes above and beyond! But, also, and really most importantly, makes corrections and takes the customers' insights to heart! Well done Ceiling Outfitters! Well done!

Angela
Shine on Signs
Director of Operations
More than I asked for!

I just wanted a 'T' grid Clip that would hold more than the little 6 lb. capacity plastic clips I could buy locally.

I tested the clip myself that I got from ceiling outfitters at 6 TIMES the capacity of what stores sell locally AND a call from the owner to make sure I wasn't doing something stupid with it so nobody gets hurt!

Who does that?! Ceiling Outfitters does!!!

Jay Perdue
Perdue Acoustics

Great Product and Service

I needed an easy simple solution to hang different area signs throughout our workshop and Ceiling Outfitters had the perfect solution. We ordered the UrbanTrapeze Gated J-Hook, Steel Cable (1/16 inch) and UrbanTrapeze 1.5 Aircraft Wire Cable Stop Clamp Adjuster Gripper Looper. The product worked great, customer service was wonderful, and we received our order faster than anticipated. I would recommend Ceiling Outfitters for your needs.

Manny Bonilla
Edwards Vacuum
Ops Manager
Great product and service

Quality products combined with efficient service.  Thanks C.O.!

Eduardo Rivas
DW Contractors

---
About Ceiling Outfitters
From your ceiling to your sign, Ceiling Outfitters is a one-stop online shop for all your ceiling sign hanging hardware and display system needs. From individual parts and products to complete ceiling sign hanging systems, businesses and do-it-yourselfers have trusted Ceiling Outfitters since 2007.
Read More
Doing Business With Us
Orders fulfilled in 24 Hours.*
**We ship our in-stock product within 24 hours excluding holidays and weekends. Orders received after 4:00 pm CST will be shipped on the next business day.
If an order is placed after 4:00 pm CST please contact us directly to determine if we can accommodate same-day shipment.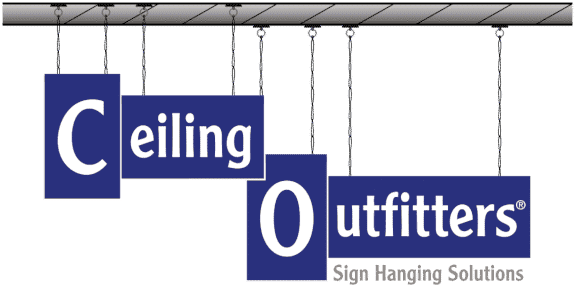 Recent Blog Posts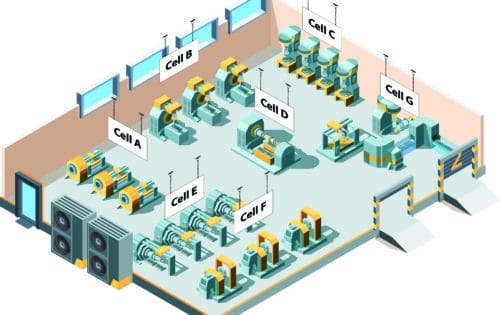 Hanging Ceiling Signs in an Assembly Production Line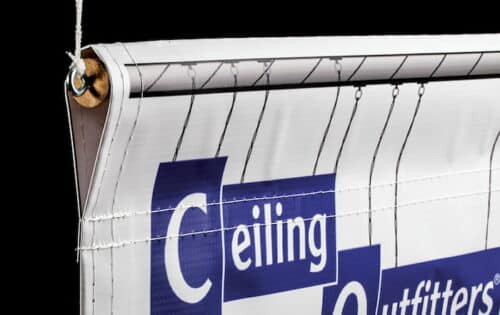 How to Hang a Sign Made with a Built-in Rod Pocket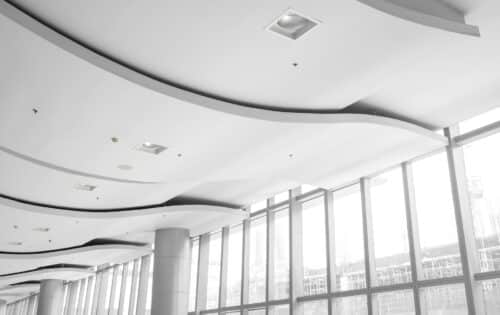 How Adjustable Loops and The Right Acoustic Panel Mounting Hardware Benefit Contractors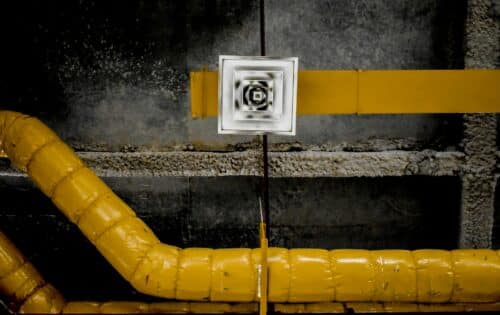 What Contractors Need To Consider When Choosing HVAC Mounting Hardware